Posted April 25th, 2011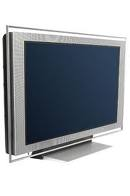 When Choosing A repair Company to Repair you Lcd Tv, First you should look at if they are authorized to repair that product.  This is not to say that a Television Service Company cannot service your Lcd Television properly if they are not an authorized service agent for them.  It just gives you a place to start. Do they use Oem Parts or Generic parts in Repairing your Lcd Tv,   Next, you should call them.  Do they seem friendly?  Do they sound knowledgable about the product?  Cost of doing service Is an important factor too.  Beware of Free Service Calls!
My Father, Harold Haskovitz Founder of  H&H TV and Electronics, Used to tell me "Nothing in life is Free" , Why I say this here is simple.  When a Service company offers a free service call or free est, they are back loading the repair.  You get what you pay for, with service.  I have been out to many service calls over the years where we were the second servicer into the unit and the first company gave a "free est".
All of these things lead up to the choice you have to make whether to repair your Lcd Television, or to replace it.